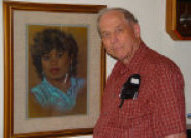 George C. Benedict, of Onondaga Hill, New York, after serving in the Navy during WWII and after pursuing a career in professional baseball, devoted his life to art and teaching art. He studied art at Albright-Knox Art School in Buffalo, NY, after which he earned a degree in art education at Syracuse University in 1957. He became a well-known artist and art teacher in the Central New York area. George's paintings and drawings enjoy a place in many homes in Central New York, in Albuquerque, New Mexico, and in Guatemala, Central America. George taught art at Roosevelt High School, Valley High School, Westhill High School and Jamesville-DeWitt High School until he retired in 1987. During his teaching years his Art students won a record number of Art awards, at regional student art competitions. For his dedication to teaching, he received the Lifetime Achievement Award at the 2004 Central New York Scholastic Art Show. In retirement he continued to draw and paint; he continued to show and sell his paintings and drawings, and he continued teaching--he held many workshops, gave many critiques, juried many shows, taught private classes and most recently, taught art to senior citizens in Onondaga Hill. He also stayed well-connected to the many students and artists he influenced over the five decades of his devotion to art. Following in George's fottsteps, his 2 sons Carlos and Michael became fine artists and teachers as well.

He Passed away August 4, 2010, peacefully, after a long illness, surrounded by Family.

Even though he was best known for his landscapes and barn paintings in Oils, his Portrait and Figure Drawing work was amazing, which was something he did mostly for himself. He began a portrait drawing group at his home studio/gallery in the 1980s. He was joined by many students and aquaintances on a weekly basis, drawing different models, after which they would move to the kitchen to enjoy tea, pies, cakes and other confectionaries while joking and discussing almost anything. Henceforth their group was nicknamed the "Just Desserts" Art Group.



Web Design by "Wildlife Arts"
George Benedict